09 Sep 2022
Award-winning ImmuniWeb AI Platform expands its AI Automation and Acceleration Technology in Asia with LOGON Software Asia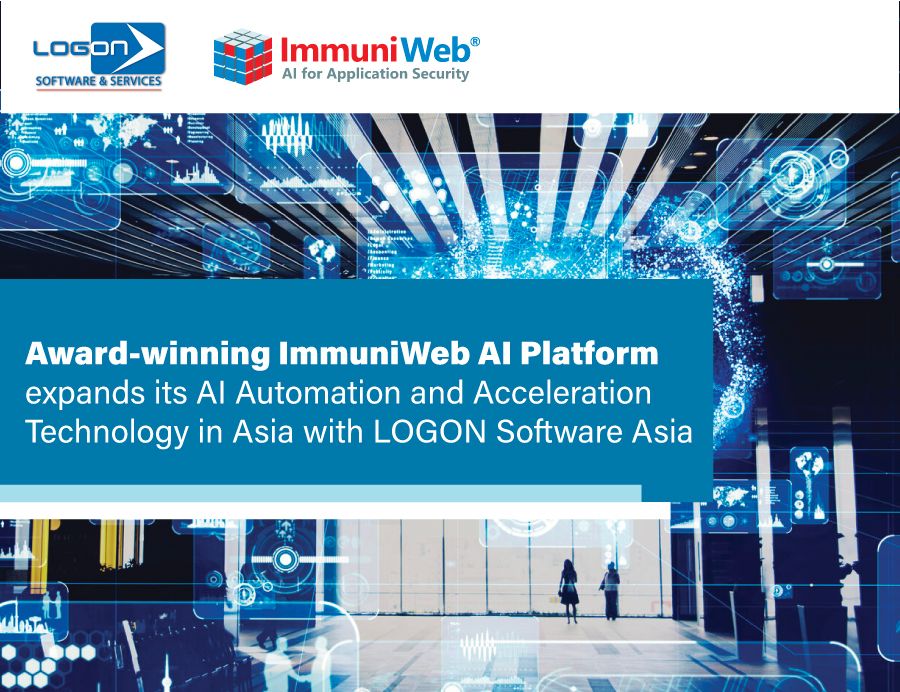 The award-winning ImmuniWeb® AI Platform shares its exciting news to expand its footprint in Asia with Leading Distributor, LOGON Software Asia. The award-winning ImmuniWeb® AI Platform delvers Penetration testing, Dark web monitoring, Attack surface monitoring.
ImmuniWeb leverages its award-winning AI technology for intelligent automation and acceleration of laborious tasks and processes, saving as much as 90% of human time compared to traditional human services.
According to Wong Yuet Or, the director of LOGON Software Asia, " Since COVID19, there is an escalation in the number of attacks and an increased pressure enterprises in Asia to secure their digital assets and meet of regulatory compliance. When economies recover, the need to shore up security is top priority.
Most enterprises do not have a dedicated in-house security team and prefer procuring security services from external providers like LOGON.
LOGON partners with the award-winning ImmuniWeb® AI Platform to help customers test, secure and protect their web and mobile applications, cloud and network infrastructure, to prevent supply chain attacks data breaches, and to comply with regulatory requirements."
LOGON's Professional Services team offer support to customers who adopt the award-winning ImmuniWeb® AI Platform in Hong Kong, Macau, India, Malaysia, Thailand and Singapore.
---
For more details, please visit: LOGON Software Asia, https://www.logon-int.com.
Contact person: Lisa Wong, lisa@logon-int.com
For more details, please visit: Immuniweb, https://www.immuniweb.com
Contact person: Andy Peterson, andy.peterson@immuniweb.com