07 Sep 2023
Dr. Magda Chelly, Co-founder of Responsible Cyber, Illuminates Singapore's Tech Stage with SG100WIT Recognition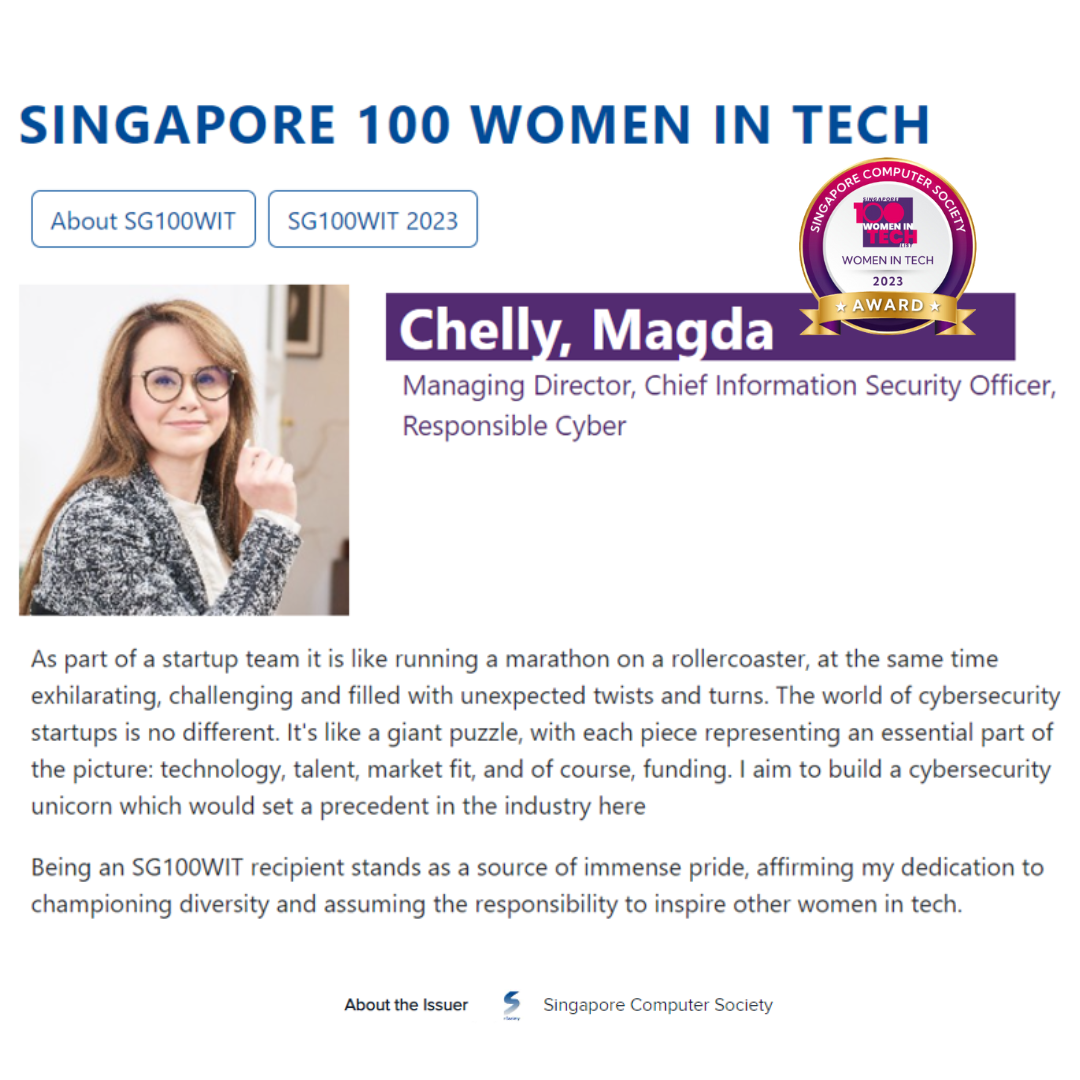 In the dynamic and intricate realm of technology, certain luminaries pave the way forward, setting standards and breaking barriers. Dr. Magda Chelly, with her unparalleled expertise and visionary leadership, emerges as one such formidable force, propelling Responsible Cyber to global recognition while making her mark as a celebrated tech pioneer.
Singapore, September 7, 2023 — Amidst the digital era's rapid strides, Dr. Magda Chelly's indomitable spirit and tech acumen have earned her a coveted spot in the 'Top 100 Women in Tech.' This honor, presented by the Singapore Computer Society (SCS) and Infocomm Media Development Authority (IMDA), shines a spotlight on her exemplary contributions to the technological sphere.
The SG100WIT list, in its third edition, went live on September 1, extolling the tech industry's spirited women, amplifying their transformative roles across an array of sectors, including biotechnology, semiconductor, and aeronautics. This edition, boasting a record 800 nominations—an impressive increase from the previous year—underlines the escalating appreciation and influence of women in the tech domain.
At the heart of this prestigious list, Dr. Chelly's journey stands out. Co-founding Responsible Cyber in 2016 alongside Mikko Laaksonen, she has been instrumental in sculpting it into a cybersecurity and risk management beacon. Responsible Cyber isn't merely about technical innovation; it epitomizes the harmonious blend of vision, human endeavor, and tech prowess.
On her recognition, Dr. Magda Chelly shared, "This honor reflects the relentless passion and commitment of countless women in tech, driving innovation every day. At Responsible Cyber, our journey has always been about pioneering solutions and setting benchmarks. It's heartening to see our endeavors, like the IMMUNE X-TPRM platform for third-party risk management, gain global traction. Yet, this is just the beginning."
IMMUNE X-TPRM, Responsible Cyber's flagship offering, is a testament to modern third-party risk management challenges, bolstered by groundbreaking artificial intelligence capabilities. This SaaS product, crafted with precision and expertise, echoes the Singaporean startup spirit's brilliance, positioning Responsible Cyber as a trailblazer in the digital safety realm.
The 2023 SG100WIT initiative also witnessed a notable addition—the 'Girls in Tech' category—reflecting the growing fascination for tech among young women. This introduction not only magnifies the industry's allure but also showcases strides towards cultivating a robust tech talent reservoir in Singapore.
Responsible Cyber, under the stewardship of Dr. Chelly and co-founder Mikko Laaksonen, transcends traditional cybersecurity approaches. As a cybersecurity and risk management startup, it integrates cutting-edge tools with strategic insights, ensuring clients are always a step ahead in the digital safety domain.
With Dr. Chelly's recognition on the SG100WIT list, we're reminded of technology's expansive landscape. It's a world where innovation, when paired with astute leadership, can craft wonders. Dr. Chelly's journey and Responsible Cyber's groundbreaking solutions beckon tech aficionados and industry veterans alike, offering insights into digital safety's future.
Encapsulating tales of ambition, persistence, and success, the SG100WIT list offers readers a deep dive into technological achievements led by spirited women. For a comprehensive understanding and to explore these illuminating narratives, the complete list is accessible here.
About Responsible Cyber:
Established in 2016 by Dr. Magda Chelly and Mikko Laaksonen, Responsible Cyber has emerged as a titan in the realm of cybersecurity. Renowned for their innovative IMMUNE X-TPRM solution, this Singapore-based startup seamlessly marries governance, risk management, and compliance processes. A torchbearer for Singapore's entrepreneurial spirit, Responsible Cyber's trajectory is a testament to relentless innovation and impeccable leadership. Discover more about Responsible Cyber's visionary journey here.