07 Sep 2023
Elevating Digital Trust with Cyber Essentials: Responsible Cyber's Commendable Leap Towards Cyber Excellence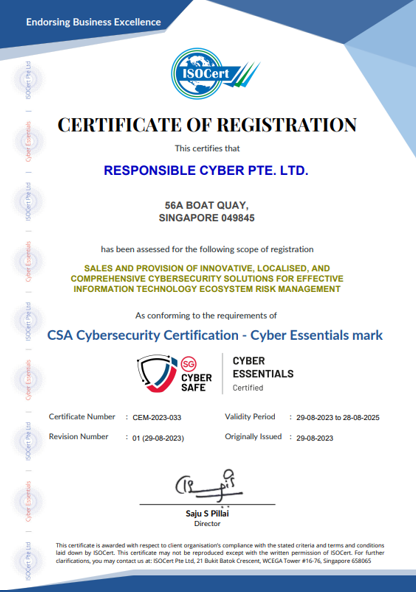 In an era where our very existence is intertwined with digital ecosystems, ensuring robust cyber security is no longer a luxury; it's an imperative. The past decade has witnessed a meteoric rise in cyber threats, with global data breaches costing businesses an average of $3.86 million in 2020. Amid this complex scenario emerges a shimmering beacon of hope: Responsible Cyber, a forward-thinking cyber security start-up based in Singapore.
During August 2023, Responsible Cyber made an audacious move. Instead of solely advocating for digital fortification, they turned the magnifying glass upon themselves, embracing an intensive cyber security audit. This wasn't an exercise in vanity; it was a testament to their unwavering commitment to being the epitome of the very standards they preach.
But why would a start-up voluntarily put itself under such scrutiny? Dr. Magda Chelly, the dynamic co-founder and Managing Director, put it succinctly, "We cannot champion cyber security excellence to other businesses without ensuring our very core exemplifies the same." It's an ethos reflecting their unyielding commitment to safeguarding not only their proprietary systems but also the myriad of data streams entrusted to them by their clients.
The endgame? They didn't merely aim to pass. They sought to set a benchmark. And they did. Following a meticulous audit helmed by one of the Cyber Security Agency of Singapore (CSA)'s eminent certification bodies, Responsible Cyber emerged not only unscathed but adorned with the prestigious Cyber Essentials mark. Instituted by CSA in 2022, this accolade underscores the SG Cyber Safe Programme's efforts to bolster Singapore's digital defenses.
With an increasing frequency of disconcerting news around data breaches, businesses worldwide are grappling with the ominous shadow of cyber vulnerabilities. SMEs, in particular, find themselves in a perilous position. Often operating without the luxury of dedicated IT security teams or access to high-tier cyber security infrastructures, their digital domains remain susceptible.
However, as Wayne Yan, Project and Compliance Manager of Responsible Cyber, pointed out, the pathway to cyber resilience needn't be a labyrinthine ordeal. "Our journey to certification involved meticulous policy reviews, ensuring our security controls resonated with the provided checklist," he explained. For SMEs daunted by the intricacies of cyber defense, CSA's readily accessible cyber security toolkits are a boon, simplifying the journey towards digital fortification.
The Cyber Essentials mark, while a commendable acknowledgment, isn't a panacea against all cyber threats. It's a foundational step, an assertion of an organization's commitment to thwarting prevalent cyber challenges. But, as Dr. Chelly rightly notes, "The realm of cyber threats is perpetually evolving. Vigilance and adaptability aren't mere strategies; they're necessities."
Responsible Cyber's vision transcends mere certifications. As the digital landscape continuously evolves, so do the benchmarks for security. Mikko Laaksonen, co-founder, indicates their ambitions don't halt here. Next on their horizon is the rigorous Cyber Trust mark certification, poised to delve deeper into document verifications and evaluations, further solidifying their position at the cyber security apex.
A Glimpse into Responsible Cyber Pte. Ltd.
Established in 2016 by industry veterans Magda Chelly and Mikko Laaksonen, Responsible Cyber has carved a niche for itself on the global cyber security stage. From its Singaporean roots, the company has branched out, marking its presence in the UK, France, and Poland. Their innovative spirit is palpable, especially with the launch of two avant-garde AI-driven solutions: IMMUNE X-TPRM, addressing contemporary third-party risk management challenges, and IMMUNE GRC, fine-tuned to optimize governance, risk, and compliance protocols.
As businesses of all scales embark on digital voyages, partnering with stalwarts like Responsible Cyber isn't just strategic; it's foundational to a secure digital future. Dive deeper into their world and witness a paradigm of cyber resilience by visiting www.responsible-cyber.com.