31 Aug 2022
Indonesia's Largest Ground Transportation Company Chooses BlackBerry Cybersecurity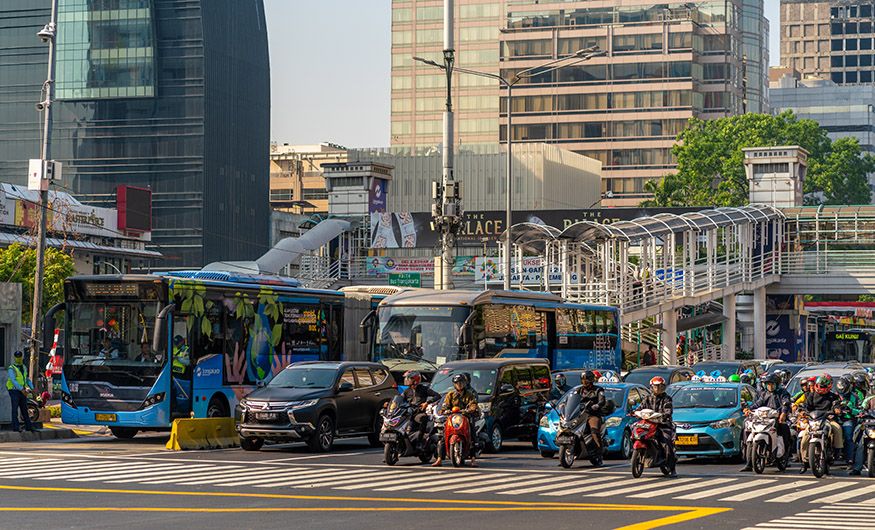 Jakarta, INDONESIA – March 23, 2022 – BlackBerry Limited and Telkomsel today announced that Indonesia's leading taxi operator, Bluebird Group (Bluebird), is deploying BlackBerry's AI-enabled cybersecurity software and managed XDR service (Extended Detection and Response), strengthening the company's security posture throughout the transportation supply chain as it pivots to digital. With support from Telkomsel, Bluebird deployed BlackBerry® Protect, BlackBerry® Optics and BlackBerry® Guard, delivering always-on cybersecurity expertise, powered by Cylance® AI, for continuous protection, detection, and response.
With over 23,000 taxis, plus containers, logistics and heavy equipment, Bluebird has a complex vendor and partner ecosystem, including payment gateways, apps and APIs. The company put security at the centre of its digital strategy, seeking round-the-clock support for a highly mobile, fast-growth business that needed to secure data.
"Bluebird has always put safety and security at the heart of our business, from our consumer experience through to our IT ecosystem," said Muhammad Suhada, Vice President Information Technology at Bluebird. "After evaluating several vendors, we are glad to announce our collaboration with BlackBerry software for its unmatched AI capability and managed security and response. Together with support from Telkomsel, BlackBerry offered everything we were looking for: smart, AI-based machine learning and a fully dedicated external security team, allowing us to optimize our resources to improve and streamline user experience."
BlackBerry Protect for end-point protection (EPP) and BlackBerry Optics for end-point detection and response (EDR) are automated, prevention-first solutions that use AI and Machine Learning to defend against malware infection and potential data breaches. For example, a recent breach attempt against an Indonesian company was foiled when the Cylance AI engine detected and eliminated a crypto-jacking malware. BlackBerry Guard is a 24x7 managed XDR service that offers companies access to trained threat prevention experts on a subscription-based model. The service enables lean in-house security teams to effectively hunt and prevent breaches quickly, saving time and resources, while avoiding challenges like alert fatigue.
Graeme Pyper, Director APAC Channels, BlackBerry said, "Together with Telkomsel, BlackBerry is proud to support Bluebird to help bolster cyber skills and enable an intelligent approach to security with our seventh generation AI engine and managed XDR. A cybersecurity software and services company, BlackBerry is committed to providing the expertise and tools companies need to minimize cyber risk and focus on innovation."
"Thousands of companies like Bluebird Group form the backbone of Indonesia's economy. As they become digital-first, they must also become cybersecurity-first. However, often they don't know where to start, how much it costs, and what skills and tools are required," said Ceppy Djakaria, Vice President Corporate Account Management, at Telkomsel. "Together with BlackBerry, we are putting intelligent cyber technologies and skills in reach of any sized business to help protect, enable and defend against new threats."
For information about BlackBerry® Protect, please visit https://www.blackberry.com/us/en/products/unified-endpoint-security/blackberry-protect; and BlackBerry® Guard, please visit https://www.blackberry.com/us/en/products/unified-endpoint-security/blackberry-guard. To download a copy of the 2022 BlackBerry Threat Report , visit https://www.blackberry.com/us/en/forms/enterprise/report-bb-2022-threat-report-pi
Registration is also now open https://www.blackberry.com/us/en/events/2022/blackberry-security-summit for the annual BlackBerry Security Summit, taking place at the New York Stock Exchange on Wednesday October 26th. Virtual sessions will be available to view on-demand in APAC on Friday October 28th.
-End-
About Bluebird
Operating since 1972, PT Blue Bird Tbk (BIRD), is a public transportation company catering to passengers and providing other land transportation services. PT Blue Bird Tbk's 15 subsidiaries are found in 18 major cities around the country, namely Jakarta, Depok, Tangerang, Bekasi, Cilegon, Medan, Manado, Bandung, Palembang, Balikpapan, Padang, Pangkalpinang, Batam, Bali, Lombok, Semarang, Surabaya, Pekanbaru, Makassar, Solo and Yogyakarta.
Bluebird is committed to always provide safe, reliable, and comfortable transportation with easy accessibility for its customers. Companies extensive network covers more than 600 exclusive taxi outlets placed in malls, shopping centers and other strategic places. Serving millions of passengers every month.
Since going public on the Indonesia Stock Exchange in 2014, PT Blue Bird Tbk has gained status as a reliable and trustworthy transportation partner.
About Telkomsel (www.telkomsel.com)
Telkomsel is Indonesia's largest mobile operator with more than 192 million subscribers. To serve customers all over Indonesia, including in remote areas, outer islands and border areas, Telkomsel has built more than 167,000 BTSs. Telkomsel has consistently implemented technology roadmap of 3G, HSDPA, HSPA+, as well as being the first mobile operator in Indonesia to commercially launched the 4G LTE services. Entering the digital era, Telkomsel has been continuously developing a wide range of digital business, such as Digital Advertising, Digital Lifestyle, Mobile Financial Services, and Internet of Things. To serve the needs of customers, Telkomsel operates a 24-hour call center and GraPARI service centers across Indonesia.
About BlackBerry
BlackBerry (NYSE: BB; TSX: BB) provides intelligent security software and services to enterprises and governments around the world. The company secures more than 500M endpoints including over 195M vehicles. Based in Waterloo, Ontario, the company leverages AI and machine learning to deliver innovative solutions in the areas of cybersecurity, safety and data privacy solutions, and is a leader in the areas of endpoint management, endpoint security, encryption, and embedded systems. BlackBerry's vision is clear - to secure a connected future you can trust. BlackBerry. Intelligent Security. Everywhere.
For more information, visit BlackBerry.com and follow @BlackBerry.
Trademarks, including but not limited to BLACKBERRY and EMBLEM Design are the trademarks or registered trademarks of BlackBerry Limited, and the exclusive rights to such trademarks are expressly reserved. All other trademarks are the property of their respective owners. BlackBerry is not responsible for any third-party products or services.