22 Sep 2022
Lansweeper partners with LOGON to deliver Asset Visibility for Cyber Security in Asia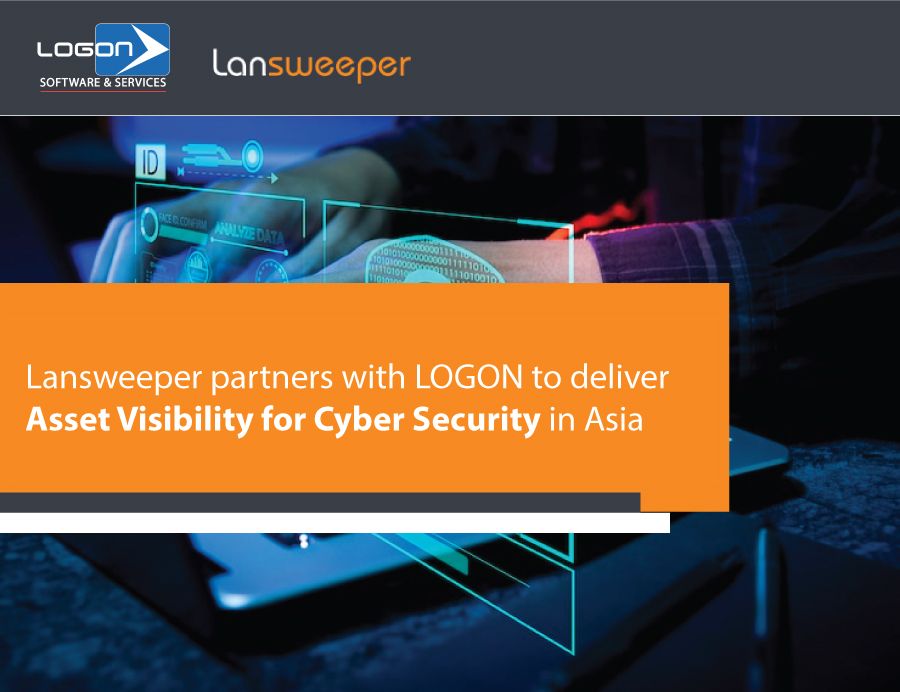 Cybersecurity Solution provider, LOGON Software Asia, and Lansweeper, a global IT Asset Management (ITAM) platform provider, announced their partnership in Asia to help customers in Banking, Finance, and Healthcare industry to minimize risks and optimize their IT estate.
Lansweeper's IT Discovery & Inventory Platform enables companies to build a complete and up-to-date overview of their entire IT estate. What sets Lansweeper apart is the focus on building a single, re-usable inventory that is not tied to a specific use case. Instead, Lansweeper supports a multitude of scenarios, ranging from Cybersecurity to Software Asset Management to Cloud Sizing.
According to Wong Yuet Or, the director of LOGON Software Asia, "The ITAM software market in Asia is growing exponentially due to increasing focus on cost, compliance, and security related to IT, IoT and OT assets. LOGON helps customers address these key challenges with ITAM services and offer them insights to help optimize IT spend, security and performance across the enterprise. We are proud to be a Lansweeper partner "
"Lansweeper and LOGON partnership adds value by reducing man-hour and IT infrastructure costs while delivering best-of-breed ITAM and CAASM[1] solutions," says Christina Klein, Vice President, Global Channel Partners at Lansweeper. "We are proud of the quality and comprehensive service our partnership delivers to clients."
Adds James Hatcher, Channel Manager APAC, "We have been in the ITAM business from the beginning, and it's exciting to see how much the industry has changed in 18 years. As our partnership with LOGON continues to grow, we naturally extended services into cybersecurity, protecting the entire IT estate. We are industry forward-focused, understanding the importance of CAASM when protecting businesses from cyber attacks."
---
LOGON's ITAM Services team help customers deploy Lansweeper with integration to CMDB[2], EASM[3], ITSM[4] systems in Hong Kong, Macau, India, Malaysia, Thailand, and Singapore.
Lansweeper is an IT asset management software provider helping businesses better understand, manage and protect their IT devices and network. Lansweeper helps customers minimise risks and optimise their IT assets by providing actionable insight into their IT infrastructure at all times, offering trustworthy, valuable, and accurate insights about the state of users, devices, and software. Since its launch in 2004, Lansweeper has been developing a software platform that scans and inventories all types of IT devices, installed software and active users on a network - allowing organisations to centrally manage their IT.
The Lansweeper platform currently discovers and monitors over 80 million connected devices from 28,000+ customers, including Mercedes, Michelin, Liverpool FC, Carlsberg, Nestle, IBM and Samsung to governments, banks, NGOs, and universities, driven by its 250+ strong teams in Belgium, Spain, Italy, Canada, Ireland, the UK and the USA.
Follow Lansweeper on LinkedIn: https://www.linkedin.com/company/lansweeper/
---
For more details, please visit: LOGON Software Asia, https://www.logon-int.com.
Contact person: Lisa Wong, lisa@logon-int.com
---
For more details, please visit: Lansweeper, https://www.lansweeper.com
Contact person: James Hatcher, james.hatcher@lansweeper.com
---
[1] CAASM - Cyber Asset Attack Surface Management
[2] CMDB - Configuration Management Database
[3] EASM: External Attack Surface Management
[4] ITSM: IT Service Management