07 Sep 2023
Responsible Cyber Unveils IMMUNE X-TPRM: The Vanguard of Third-Party Risk Management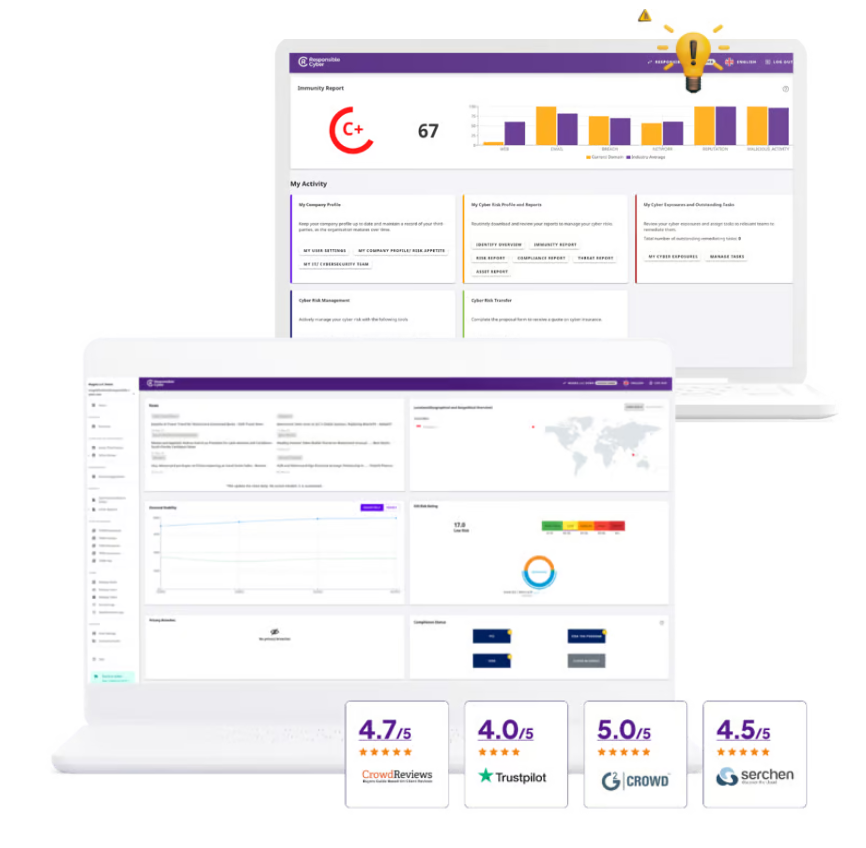 The digital revolution, while exhilarating, unfurls a maze of regulatory complexities. Amid this intricate cyber landscape, Responsible Cyber introduces its flagship solution, IMMUNE X-TPRM, at Tech Week Singapore – a paradigm shift in third-party risk management.
Singapore, September 7, 2023 — In the digital age, with a plethora of third-party affiliations and their inherent risks, there's a heightened need for a guiding force. Enter IMMUNE X-TPRM, a beacon designed to navigate the intricate waters of tech governance and evolving cyber standards.
Dr. Magda Chelly, Responsible Cyber's Co-Founder and Managing Director, remarked, "In a world where cybersecurity threats burgeon daily, conventional manual validations fall short. IMMUNE X-TPRM harnesses the power of AI, offering a symbiotic platform that integrates business acumen with IT insights."
Beyond a mere risk assessment platform, IMMUNE X-TPRM stands out as an advanced ecosystem tailored for today's business intricacies. It integrates state-of-the-art automation with seasoned cybersecurity expertise. Through its robust analytical engine, it elucidates the comprehensive risk panorama, spotlighting potential business implications.
IMMUNE X-TPRM's hallmark is its proactive modus operandi. It transcends merely identifying threats, delving into their conceivable ramifications. The platform doesn't just present data; it delivers actionable intelligence, charting strategic pathways for businesses. The aim? Thriving in a digital-first world, fortified against uncertainties.
Distinct Features of IMMUNE X-TPRM:
True Attack Terrain Unveiling: In a domain where third-party platforms lean on stalwarts like Cloudflare, AWS, and Microsoft Azure, IMMUNE X-TPRM distinguishes genuine vulnerabilities and risks, peeking beyond these protective veneers.

Layered Partner Profiling: With intricate business affiliations, IMMUNE X-TPRM automates discernment between third and fourth parties, ensuring a bespoke risk management approach for each tier.

Dynamic Tech Risk Profiling: Acknowledging the unique risks accompanying varied technologies and projects, the platform offers custom-tailored risk profiles, enabling businesses to tackle challenges with precision.
Mikko Laaksonen, Co-Founder and CTO, highlights the platform's uniqueness, "Our focus transcends technology; we immerse ourselves in the human facet of risk management. IMMUNE X-TPRM is a union of tech mastery and business vision, delivering insights that eclipse conventional offerings."
Aware of initial user adaptability challenges, Responsible Cyber amplifies the IMMUNE X-TPRM experience. Extensive training, virtual tutorials, and tailored coaching exemplify their commitment to user empowerment.
While IMMUNE GRC has been a beacon for governance, risk, and compliance, this season's spotlight is trained on IMMUNE X-TPRM, symbolizing Responsible Cyber's unwavering dedication to innovation.
Experience the future of risk management firsthand!
Witness IMMUNE X-TPRM's unmatched capabilities at Tech Week Singapore, exclusively at Responsible Cyber's booth (E11) during Cyber Security World Asia 2023.