Ridge Security partners with Trellix on an XDR Security Platform Integration to Optimize SecOps and Protect Business-Critical Assets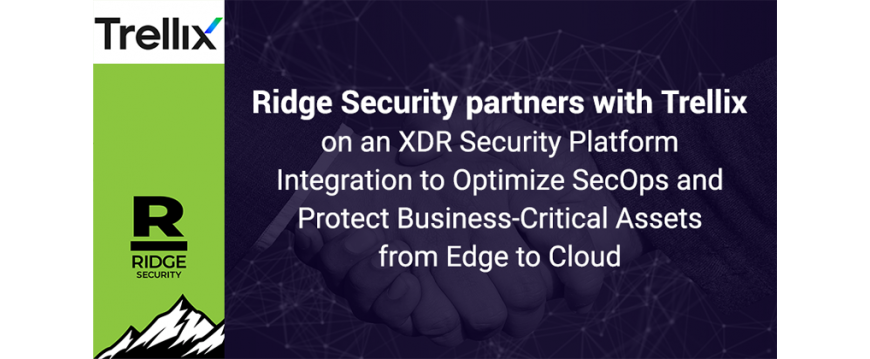 The integrated solution will further deliver the cybersecurity confidence that enterprises need to drive competitive and market advantage
Ridge Security, the cutting edge automated security validation solution provider, announced it has partnered with Trellix, the cybersecurity company delivering the future of extended detection and response (XDR), to deliver an integrated platform that leverages the AI/ML capabilities of and automated pen-testing capabilities of Ridge Security's flagship product, RidgeBot, for a robust security solution that helps security teams detect, respond and remediate timely and effectively against sophisticated threats across all threat vectors. The solution reduces operational workloads through automation and helps security teams prioritize critical risks.
Today's enterprise deployment models are without boundary, with critical assets in both private and public data centers and edge locations. With attacks becoming more sophisticated, persistent, and multi-vectored, the expanded enterprise footprint – from edge to cloud – requires a security approach that is one step ahead of threat actors. Traditional and layered defenses require a cohesive security operation that synthesizes key activities and insights for security teams so that they can actively and effectively prioritize and address risks from a 360-degree view.
"Security Operations teams face a constant barrage of threats and associated notifications and are under pressure to minimize impact that threat incidents can have. An XDR platform helps admins home in on the needle in the haystack and mitigate against anomalies and threats across attack vectors from endpoint to cloud, efficiently and effectively from a central platform. Through this partnership, Ridge Security and Trellix address a rising industry need to shorten response times from security events and more easily," says Britt Norwood, Senior Vice President, Global Channels & Commercial from Trellix.
"An integral part of a robust XDR platform is automated and continuous risk validation, especially in today's hybrid and complex IT environments. Security teams struggle with the mostly manual and time-consuming – but necessary – security operations, as well as the heavy data that they are presented with. A platform that combines the rigor of an automated penetration tool with the comprehensive edge security from Trellix will ensure the security posture of today's enterprises and the peace of mind of security teams," says, Lingling Zhang, President & Co-founder of Ridge Security.
RidgeBot complements the Trellix Helix XDR platform with its exposure management capabilities, helping identify, prioritize, and manage unexpected risks or exposures, with a contextual view of threats for more informed and faster decision making for security admins.
The solution, powered by adaptive threat intelligence and automated penetration testing, will further improve the effectiveness of SOC teams and drive efficiencies that will allow them to focus on strategic initiatives.