09 Jun 2022
Sangfor Business Antivirus Solution Again Receives AV-Test Top Award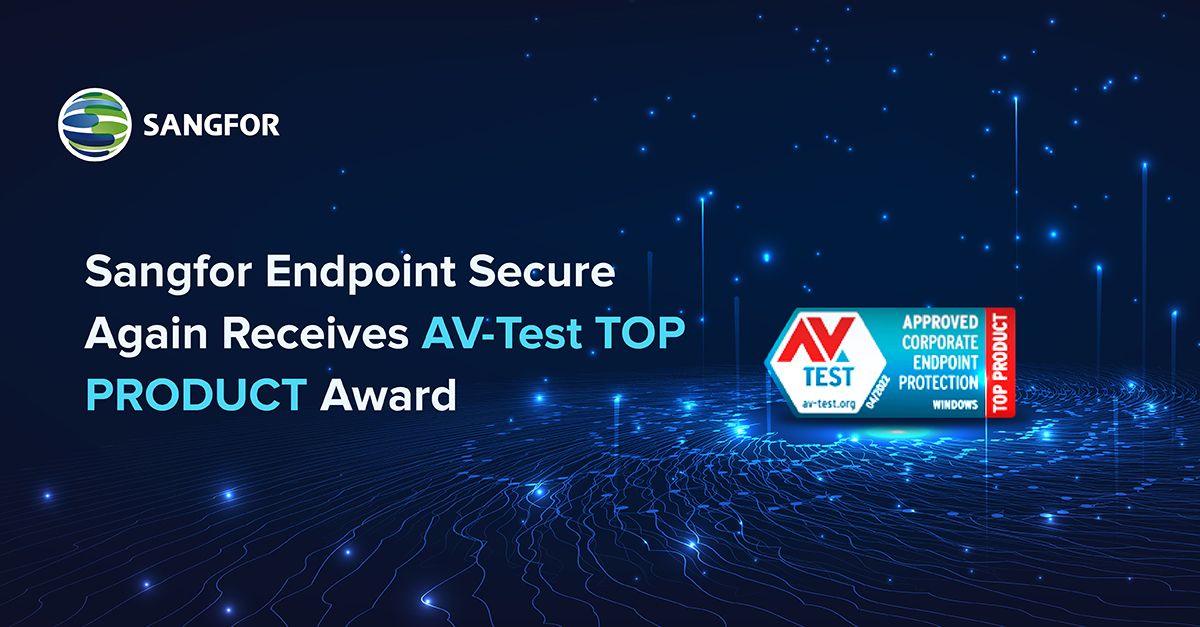 The Best-in-Class Antivirus Solution for Business
Sangfor Technologies is proud to announce Sangfor Endpoint Secure's outstanding results in the latest AV-Test certification of the best Windows antivirus solution for business users.
Official performance testing conducted by AV-TEST, one of the world's leading test institutes for IT security, awarded Sangfor Endpoint Secure a perfect 6 for Protection, Performance, and Usability, earning it the AV-TEST "TOP PRODUCT" award.
Complete Antivirus Protection for Business PCs
Endpoint Secure achieved 100% protection when pitted against hundreds of 0-day attacks (attacks on unknown vulnerabilities) and thousands of recently-discovered malware between March and April 2022 – one of only a handful of vendors to achieve this feat. Given that over 500,000 new malware is created every day, every 0.1% counts.
Antivirus Solution for Business Efficiency
Testing also verified that Endpoint Secure has zero to near-zero interference on the speed of everyday business PC operations, such as downloading applications and copying files.
A deeper analysis further reveals that Endpoint Secure achieved the joint-lowest overall impact* on a standard PC at 6% and the lowest overall impact on a high-end PC at 6.2%. These figures were well below the industry averages of 11% and 10% respectively, proving that outstanding antivirus protection for your business does not have to come at the cost of business efficiency.
The latest AV-Test certification confirms Sangfor Endpoint Secure as the best-in-class antivirus/endpoint security solution for your business. To read the test review in full, please visit: https://www.av-test.org/en/antivirus/business-windows-client/windows-10/april-2022/
Sangfor Endpoint Secure: The Future of Endpoint Security
Sangfor Endpoint Secure takes endpoint protection to a new level using a holistic approach to defending business systems from malware and advanced persistent threats (APTs). Endpoint Secure is a key component of Sangfor's XDDR (eXtended, Detection, Defense & Response) security framework, directly integrating with Sangfor products like NGAF, IAG, and Cyber Command threat analysis and hunting platform.
As the future of endpoint security, Sangfor Endpoint Secure delivers business users a robust antivirus/endpoint security solution that is lightweight and easy to use. Innovative features include the world's first and only endpoint ransomware honeypot to identify and kill ransomware encryption in real-time and "One-Click Kill" to eradicate detected ransomware and other APTs across the network with a single mouse click.
Sangfor Endpoint Secure is widely used in many industries, including government, finance, education, healthcare, and other enterprises. With the deployment of more than 4 million endpoints to date, Sangfor Endpoint Secure is the trusted endpoint protection for governments, enterprises, and public institutions.