Sangfor Featuring Gartner Report on Network Detection and Response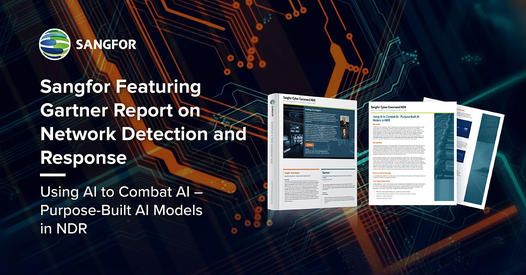 #Sangfor Featuring #Gartner Report on Network Detection and Response: Using AI to Combat AI – Purpose-Built AI Models in NDR. Based on Gartner's Research, Sangfor has released a detailed #whitepaper that explains how to combat #weaponized AI used in new #malware with purpose-built AI models, using #NDR security solutions like #CyberCommand. Read it NOW: https://connect.sangfor.com/gartner-ndr-whitepaper
Hong Kong, 25th August 2021 - Sangfor Technologies, a leading vendor of cyber security & cloud solutions, works closely with customers and IT analyst firms like Gartner®, to develop new products and improve their already stellar offering of security, cloud computing and infrastructure solutions.
One of the recent Gartner research publications, "Emerging Technologies: Emergence Cycle for AI in Security for Malware Detection", drills-down into how AI is enabling the world of network security and network detection and response (NDR).
Gartner research resulted in several interesting findings including:
Artificial intelligence (AI) methods and techniques are being integrated into products in all security market segments, making this technology, in aggregate, the largest impact on malware detection development for the next five to eight years.
AI's impact on malware detection "… will be felt in waves over the next eight years, first with endpoint and performance monitoring and later with further innovations in ransomware and code analysis.
The Gartner research includes recommendations on how to incorporate AI into malware detection in areas of relevance including CASBs, EDR, SWGs and WAFs. Gartner focused on dividing their research into subgroups: endpoints, performance monitoring, modelling, encryption, ransomware, and code analysis.
Based on this research, and with its years of security experience in the IT industry, Sangfor has released a detailed whitepaper that explains how to combat weaponized AI with purpose-built AI models looking for specific small non-normal or suspicious behaviour over magnitudes of activity across large periods of time. NDR tools have become very popular for threat detection and automating responses against threats because they are using AI to find small malicious behaviour from analysis of large amounts of network traffic.
For more detailed information and to read Sangfor & Gartner report in its entirety, click here: https://connect.sangfor.com/gartner-ndr-whitepaper
Sangfor Cyber Command NDR functionalities have purpose-built AI models that are proven to significantly improve overall security detection and response capabilities. By monitoring internal network traffic, correlating security events and user behaviour analysis, and adding in global threat intelligence, Cyber Command reveals breaches, and, through careful analyses, identifies hidden threats within the network.
For more information on Sangfor Cyber Command, or to research Sangfor's other cyber security, cloud computing and infrastructure solutions, please visit us online, or email us at marketing@sangfor.com directly, and trust Sangfor to make your digital transformation easier and more secure.
Source: Gartner Research Note
Emerging Technologies: Emergence Cycle for AI in Security for Malware Detection
Published 27 October 2020, By Analyst(s): Nat Smith, Rustam Malik, 27 October 2020
GARTNER is a registered trademark and service mark of Gartner, Inc. and/or its affiliates in the U.S. and internationally and is used herein with permission. All rights reserved.
Media Contact:
Sunny Sun
marketing@sangfor.com
+86 755 865 60605