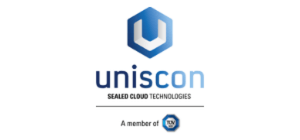 As part of TÜV SÜD's Digital Transformation strategy, Uniscon specialises in maximum-security cloud applications and solutions for privacy compliant data communication.
The products represent a quantum leap in online security: The patented Sealed Cloud invention ensures maximum security. It provides all the benefits of cloud computing, such as scalability and full flexibility, yet without compromising security.
With the Sealed Platform Uniscon invented a trustworthy cloud platform for applications and data with the highest demand on IT security. The unique Zero Trust / Privilege Architecture protects data and applications with all technical means to prevent unauthorized access during transit, processing and at rest.
Sealed Platform encapsulates and runs virtually any application and instantly provides physical plus logical security and helps to meet regulatory compliance requirements through security by design and by default.
It is the trust anchor for secure application delivery and is capable of operating as a private, hybrid or public cloud platform.
Address
Ridlerstraße 57 / Newton
München
80339
Germany