06 Dec 2022
CloserStill Media, in Partnership with ExpoSis, Celebrates Launch of New Smart Cybersecurity Summit, Thailand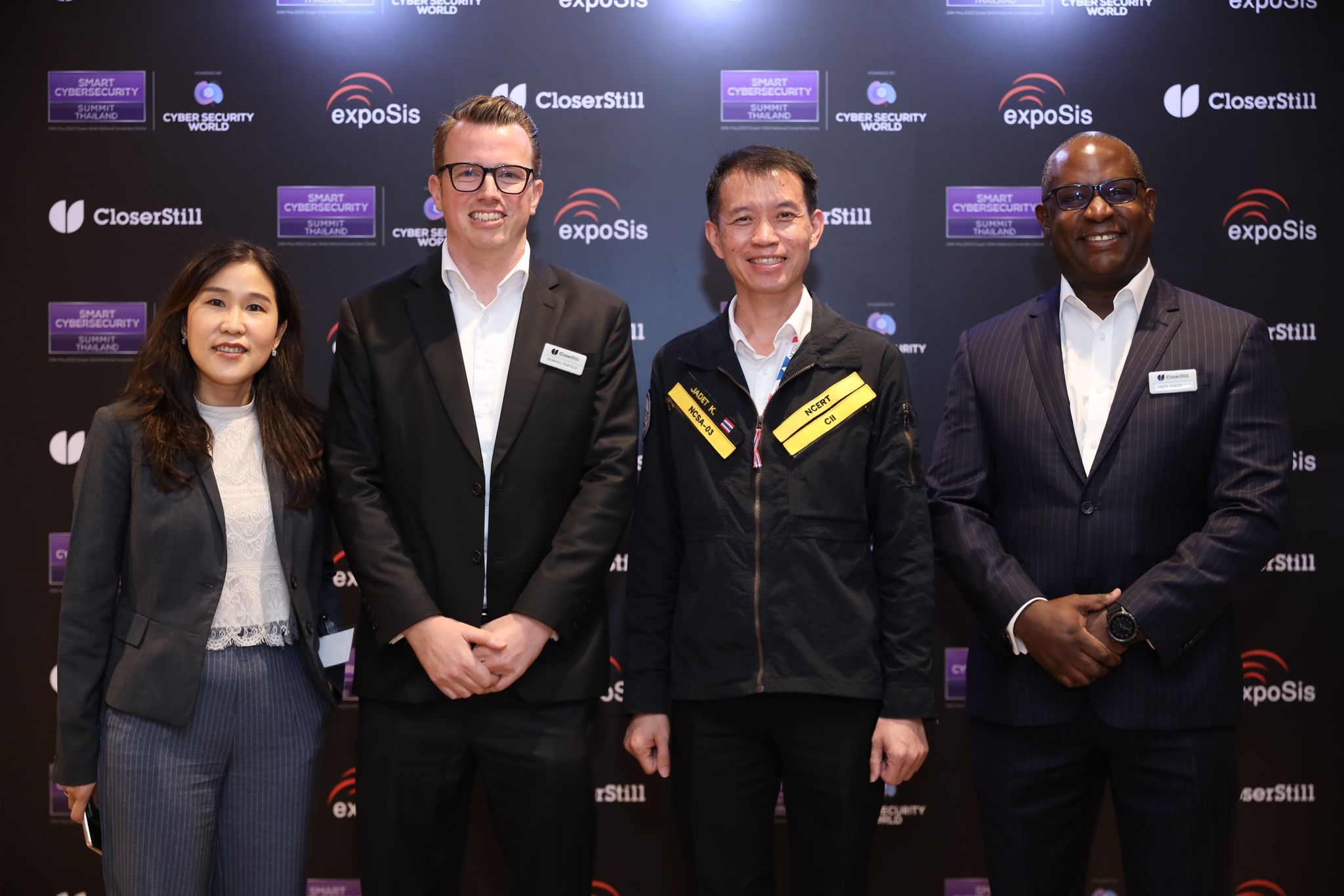 In response to increasing cyberattacks in Thailand, CloserStill Media, in partnership with ExpoSis, has launched its first-ever Smart Cybersecurity Summit Thailand.
Bangkok, Thailand, 6th December 2022 – Responding to the rising risk of cybercrime and calls from the Thai government to bolster organisational readiness, CloserStill Media's global technology portfolio launches new Smart Cybersecurity Summit in Thailand, in partnership with ExpoSis, on 24th May 2023 at Queen Sirikit National Convention Centre, Bangkok.
Smart Cybersecurity Summit Thailand will follow the hugely successful Singapore Summit which is powered by CloserStill Media's award-winning Cyber Security World. The 1-day conference and exhibition will be an exclusive invite-only event, welcoming 500 senior IT and Security professionals to an industry leading conference and exhibition.
The highly anticipated launch will cover themes such as cybersecurity frameworks, cybersecurity skills training and supply chain cloud security.
Southeast Asia's top IT security leaders gathered last week, Thursday 1st December 2022, at the Hyatt Regency Bangkok Sukhumvit to celebrate the launch. The evening was led by a keynote speech on 'Building Cyber Security Resilience for Thailand's Digital Future' presented by Air Vice Marshal Jadet Khuhakongkit, Assistant Secretary General (NCSA) in Thailand.
Air Vice Marshal Jadet Khuhakongkit, Assistant Secretary General for the National Cyber Security Agency (NCSA) in Thailand then went on to say "I'm excited to see the launch of Smart Cybersecurity Summit Thailand in 2023. The NCSA has witnessed, in the last 2 years, double the number of cyber-attacks in Thailand. It is vital that the frameworks for cybersecurity are discussed and learnt across all industries for Thailand. The Smart Cybersecurity Summit offers a great platform for the Thailand IT Security to come together and learn"
"It is critical for the cybersecurity communities in Thailand and Southeast Asia to come together and protect businesses, societies and economies against rising cyberattacks. We are launching Smart Cybersecurity Summit Thailand in ambition to become the meeting place for senior security professionals to discuss and review the digital landscape and to help secure the future of organisations" said Dominic Pinfold, Event Director for CloserStill Media's Cybersecurity Portfolio in Asia.
"Thailand is developing fast towards digital transformation and that leaves organizations widely open to cyber threats. The growing digital economy, the recent enforcement of the Personal Data Protection Act (PDPA) and the Cybersecurity Act of 2019 in Thailand make it timely for Thai organizations to take necessary step to ensure their information security infrastructure and operations are in place and meet compliance requirements. Smart Cybersecurity Summit in Thailand next May will offer an excellent platform for information security professionals to get an insight update that will be essential to their organization's security landscape" said Nucharin Paradeevisut, Managing Director of ExpoSis Co., Ltd.
The Smart Cybersecurity Summit, Thailand is for senior IT security professionals and technology end-users. Visitors can expect a full day of valuable in-person networking, learning, and collaboration in a safe environment.
Interested individuals can register their interest to see if you are eligible to attend for the Smart Cybersecurity Summit Thailand event . For more information on exhibiting and sponsorship, please contact Dominic Pinfold at dominic.pinfold@closerstillmedia.com or Pijitra (Mew) at pijitra.t@exposis.co.th.
The Smart Cybersecurity Summit Thailand is powered by CloserStill Media's award-winning Cyber Security World Singapore event, which brings together thousands of IT security leaders and strategists every October.

About CloserStill Media
CloserStill Media organises international B2B tradeshows. In the technology markets, these events reach across five global territories, more than 70,000 delegates and over 2,500 exhibitors. Its portfolio includes some of the fastest growing and award-winning events, including Tech Week Singapore, an umbrella brand featuring Cloud Expo Asia and Data Centre World Asia. Having delivered unparalleled quality and relevant audiences for all exhibitions, CloserStill has been repeatedly recognised as a leading innovator. Its teams and events have been recognised in Europe and Asia, with awards including Best Marketing Manager five times in succession, Best Trade Exhibition, Best Launch Exhibition, and Rising Star two years in succession, among others. CloserStill is headquartered in London, with offices in Singapore, and across America and Europe. For more information, visit www.closerstillmedia.com.
Press Contact
Stuart Crowley
s.crowley@closerstillmedia.com
About ExpoSis
ExpoSis is a professional exhibition organiser in Thailand. The company's portfolio of product includes many B2B industry-leading events in the energy and power, manufacturing, industrial safety technology, printing & packaging, plastics, wire & tube and medical. For more information, visit www.exposis.co.th
Press Contact
Sarunya S.
Sarunya.s@exposis.co.th