07 Oct 2022
DevOps Live 2022: SKILup your DevOps Transformation in the New Normal with DevOps Institute's Dheeraj Nayal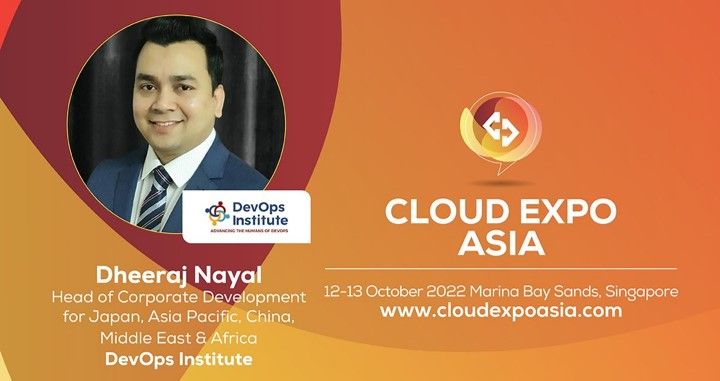 Businesses are looking for new ways to deal with the need for new solutions, but the path toward modernised solutions and improved technology remains mysterious and tricky. DevOps Institute's Head of Corporate Development, Dheeraj Nayal, shares his thoughts on how businesses can harness DevOps to tackle these challenges.
Get your free ticket to hear more from Dheeraj at DevOps Live 2022 on 12-13 October.
Q: What do you feel is the biggest challenge for businesses looking to adopt DevOps practices in the next twelve months? How can this challenge be overcome?
Throughout my many years of working with Fortune 1000 companies and leaders in the IT Industry, I have encountered numerous disruptions from technology advances, new business models, economic cycles and even a global pandemic.
Among all the disruptions, DevOps in particular stands out. In the digital era and new normal, speed is paramount. However, the distinction of responsibilities is not conducive to the more incremental change delivery approaches that are required to meet the demands of businesses today. Software and technology are transforming the business landscape by enabling new ways for people to connect, share, and collaborate.
Furthermore, technology has freed people from constraints and geography. As a result, the world is becoming more complex and even faster, and these new consumption patterns are disrupting well-established business practices.
Many organisations are facing the fundamental challenge of modernising their IT infrastructure. Our old mental models and methods are clearly not working anymore. We need new ways of dealing with the need for new solutions. The path toward modernised solutions and improved technology remains mysterious and tricky. Very few legacy organisations have mastered the transformation.
Some of the key challenges faced by organisations are over unnecessary innovations as a key metrics for DevOps. Most organisations try to level up their function by innovation, and this innovation is carried out rigorously by development and operations teams. Understanding when development needs to cease, and operations need to begin will resolve one of the biggest DevOps challenges.
Secondly, one of the biggest DevOps challenges is the transition from working in antique frameworks and architecture, to something so crisp and microservice. When you are making this big shift, it is already a big step towards innovation. One needs to have a strong knowledge of the foundation, constant delivery practices, and configuration management. Adapting to the amplified functional responsibility delivered by microservices are mandatory to deal with these DevOps challenges.
Q: What do you believe is the biggest opportunity or benefit for businesses looking to adopt DevOps, and why?
The benefits of DevOps for business, or BizDevOps, can help interdisciplinary, autonomous and small teams work together to achieve common goals. Using collective efforts, automation, and response to input from all stakeholders and teammates can move directly towards product quality and speedy deliveries.
Adoption of the DevOps culture becomes essential for an organisation because of the presence of competing and conflicting priorities that may result in compromising product quality and speed. DevOps aims to reduce bottlenecks between collaborating teams and seeks to eliminate the criteria of manual communication and delays in processing with efficient automation.
There are countless reasons why businesses are looking to adopt DevOps. Some of the key reasons are: shorter development cycle and faster innovation, reduction of implementation failure, enhanced customer experience and loyalty, improved communication, cooperation and collaboration between teams and, last but not the least, increased competencies.
Q: DevOps Institute's goal is to support professionals in bringing greater human connections to IT. What is your philosophy in achieving this goal?
We at DevOps Institute believe that the greatest challenges facing businesses isn't tech, it's humans.
DevOps Institute is a global learning community that empowers the people who power IT – helping to develop both the professional and personal expertise to make the most of DevOps in both business and career.
Focused exclusively on all things DevOps and digital transformation, we offer IT professionals – at all levels – deep practical knowledge, a welcoming network of industry leaders, respected certification programs, and access to flagship and insider events. Our philosophy is to create a continuous learning lifestyle by providing a personalised, human-centered framework known as SKIL, which essentially advances a professional's own transformation journey with new Skills, advanced Knowledge, creative Ideas and continuous Learning roadmap.
Q: What would be your biggest piece of advice for innovative leaders who are looking to adopt DevOps?
Transformational leaders are the secret ingredient in navigating the perilous waters of cultural change inherent in a move to DevOps.
The choice of leadership style has a direct influence on how members of the organisation respond to the significant changes in processes, technology, roles, and mindsets. When practitioners are engaged, motivated, empowered, and supported in an environment where leaders cast clear vision, lead with authenticity, and foster an environment of trust, the chances for a successful DevOps transformation increase dramatically.
Q: What do you feel is the value of in-person events like DevOps Live, and why would you encourage fellow business leaders to attend your session?
We are currently adapted more for a virtual, remotely-connected world during and post-pandemic, which is now further advancing with AI, virtual reality, Metaverse, and much more advancement in technology.
However, it is statistically proven that the attention span is declining along with the increased screen time. Hence, the value of in-person events like DevOps Live or DevOps Institute's SKILup Festival is priceless - bringing the industry together at one single forum to exchange a wealth of information, skills, knowledge, ideas, learning with personal warmth and interaction.
The feelings during the networking at in-person events cannot be virtualised in an online event and only with an in-person event like this, we would remember and cherish all the wonderful memories we create with industry leaders and peers for life.
Dheeraj will lead sessions on SKILup your DevOps Transformation in the New Normal and Certification Clinic to Advance Your DevSecOps Practitioner Journey at DevOps Live.
Secure your free ticket to Cloud Expo Asia and DevOps Live 2022 at Marina Bay Sands on 12-13 October.