A One Day Event Dedicated For Top Cybersecurity Leaders
Organised by Asia's #1 Technology B2B Event Network
Cyber Security World Asia presents Smart Cybersecurity Summit, a one day face-to-face event for an exclusively invited end-user audience. With 2020 being a tumultuous year and disrupting the lives of many Smart Cybersecurity Summit's theme will be Singapore's cybersecurity: building resilience beyond the crisis.
Taking place in a safe and regulated environment, IT Security professionals can expect to learn from their peers, engage in challenging content, speak to industry leaders, and informally network with their industry.
"For the last two years, Netpoleon Solutions have been a theatre sponsor at the Cyber Security World Asia to great success. The event has given us the opportunity to showcase our core brands, to meet and hear from current and prospective customers, as well as promote our holistic suite of security solutions."
Marketing, Netpoleon Solutions
ADDITIONAL MEDIA ENGAGEMENT & BUSINESS MATCHING OPPORTUNITIES

Early access to business matching application pre-event
Pre-event / on-site and post-event media engagement - e.g. interviews, exposure on website, newsletters, social media, media introductions
To find out more about the pricing of our limited packages contact Dominic Pinfold or complete the form below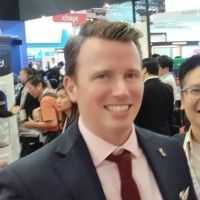 Dominic Pinfold
Event Manager
T: +65 6817 5804
E:
dominic.pinfold@closerstillmedia.com
Official Registration Sponsor
Lanyard Sponsor
Evening Networking Sponsor
Official Badge Sponsor
Lounge/lunch Sponsor
Sponsored Roundtable
Official Delegate Bag Sponsor
Sponsored Registration Question
Many more